Hyokkame masks have the following functions:
Please refer to when purchasing.
The specifications are subject to change, and will be updated from time to time.
Materials
Mask : FRP
Tongue / Anterior teeth : Non-foamed polyurethane resin
Eyes : vinyl chloride
eyelashes: Chloroprene rubber
Wig : chemical fiber
Wig base : felt, polyurethane foam
Interior cushion : Mesh fabric, polyurethane foam
Mouth and teeth (heart type only)
The mouth and teeth are shiny. There is a vent on the back of the tooth.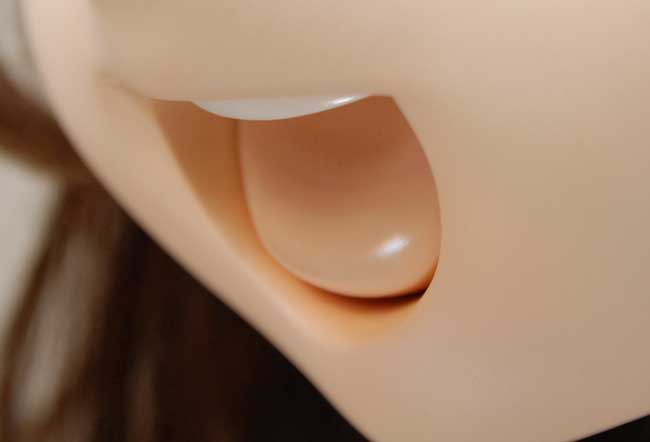 Vent
There is a gap in the mouth and the upper part of the tongue, making it easier to breathe.
There is also a half-moon gap between the eyeball and the upper eyelid.
Because of the ventilation holes, it is not possible to secure visibility from the holes.
Peephole
There is a hidden slit in the black part of the iris, and a smoke film is applied to prevent the wearer's eyes from being seen.
The double eyelid line is also a peephole.
The eye part has a structure that covers the plate-shaped part with the pupil in a spherical clear part in order to reproduce light reflection, reflection, and transparency. The eye is fixed with Velcro so it can be removed.
How to wear
There is a slit from the back of the head to the neck and can be closed with a hook.
The length of the rip is about 12cm
Wearing hole size : approximately 55cm (when closed), approximately 68cm (when opened)
It may not be affected by the shape and size of the head, but in most cases it will be adjusted by adjusting the interior.
Even people with a head circumference of 58cm can wear it with plenty of room.
Interior
There is a cushion inside to prevent the face from slipping when worn.
Installation location (left and right head, front, back)
The cushion is fixed with Velcro and can be removed.
If the size does not fit, you can adjust the fitting by adding urethane etc. as you like.
Packing
It will be sent in a dedicated storage box. Urethane cushioning material is included to keep the face intact and not scratched. In addition, the contents are difficult to understand because it is a plain box.